Do you want to find out what are the best types of cars to install a roof tent? If you love to travel and explore new places, you will certainly consider installing a roof tent on your car. This is a great way to sleep comfortably during short trips or long journeys. But which cars are the best for installing such a roof tent? Here are some suggestions prepared by RAYO Off-road Center
The best types of cars to install a roof tent
1. Vans and campers
A van or camper is an ideal vehicle for mounting a roof tent. They already have a spacious interior for comfortable sleeping, and a roof tent gives you extra space and the ability to spread out. Vans like the Volkswagen Transporter or campers like the Fiat Ducato are popular choices in this category.
Benefits of choosing a van
Take the Fiat Ducato, for example. Some of the benefits of choosing this van to install a roof tent are as follows:
Spacious and versatile: The Ducato offers ample cargo space, making it ideal for a variety of commercial purposes. It can be customized and configured for a variety of needs, such as cargo transportation, delivery services, mobile workshops and even motorhome conversions.
High payload capacity: the Ducato has a solid payload capacity, allowing it to carry heavy loads. This makes it suitable for companies that require transporting bulky items or equipment.
Fuel efficiency: The Ducato is known for its fuel efficiency compared to some other vans in its class. This can help reduce operating costs, especially for companies that rely heavily on transportation.
Comfort and ergonomics: The Ducato's interior is designed with driver comfort in mind. The seats are comfortable and the cabin is well laid out, providing easy access to controls and good visibility. This can increase driver productivity and reduce fatigue on long trips.
Advanced safety features: Newer Ducato models are equipped with advanced safety features such as ABS (anti-lock braking system).
2. Off-roaders and SUVs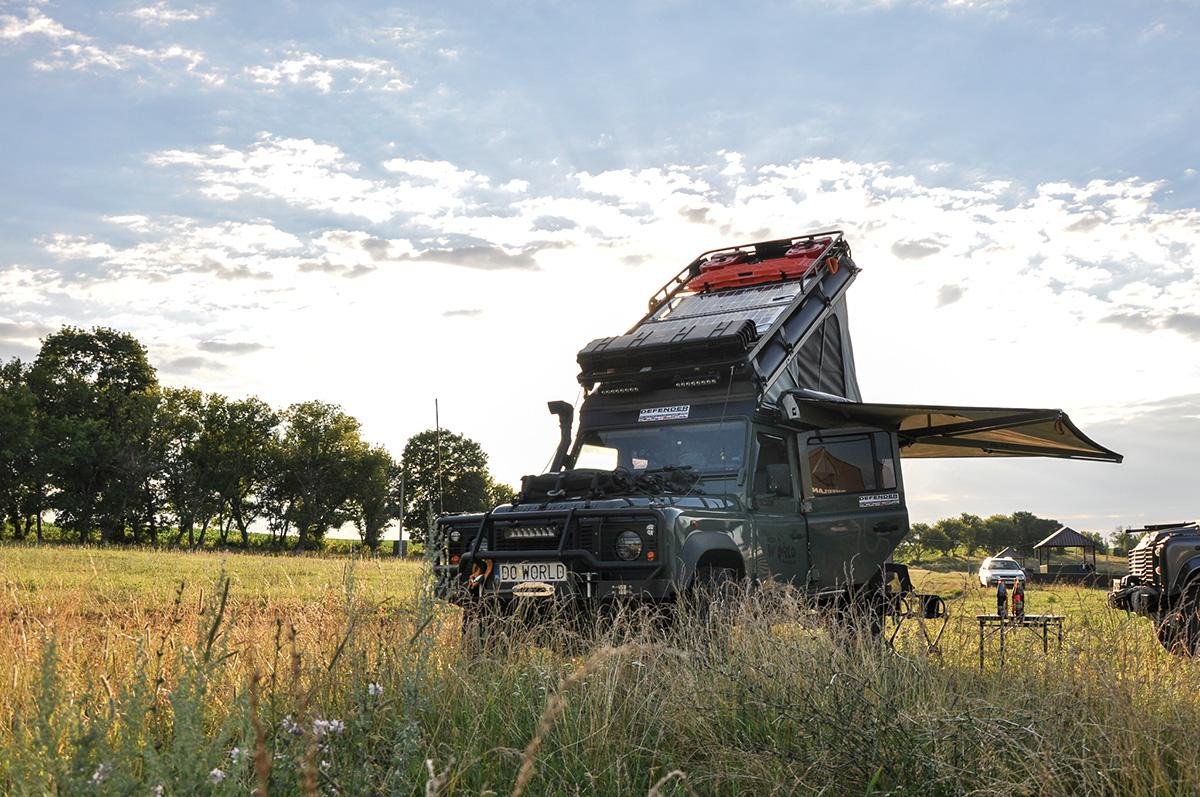 Off-road vehicles or SUVs are excellent candidates for mounting a roof tent. They tend to have strong and stable roofs that can bear the weight of the tent. In addition, off-roaders offer good off-road capability, which is useful for off-road expeditions. Examples of popular models include the Land Rover Defender, Toyota Land Cruiser and Jeep Wrangler.
Land Rover Defender
Take, for example, the case of the Land Rover Defender, a car with many advantages
Durability and reliability: the Land Rover Defender is known for its exceptional durability and reliability. It can traverse difficult terrains, cross obstacles and cope with various weather conditions, making it an ideal off-road vehicle.
Multitasking: the Defender is a versatile vehicle. It can be used as an everyday vehicle for city driving, as well as for off-roading or conducting adventures in the remote area. It has a large cargo space to carry larger items and equipment.
Exceptional off-road capability: the Land Rover Defender has an impressive ability to traverse difficult terrain. Its long-travel suspension and four-wheel drive ensure great traction and stability in difficult conditions. It can overcome muddy roads, hills, rocks and off-road obstacles.
For this reason, this car is included in this list of the best types of cars to mount a roof tent.
3. The best types of cars to mount a roof tent: Combi
Combi: Combi cars are also a good choice for mounting a roof tent. They have ample cargo space to carry camping gear, as well as enough roof space to mount a tent. Popular models such as the Volkswagen Passat Variant and Skoda Octavia Combi are often chosen by travel enthusiasts.
4. Pick-up's:
If you're a fan of pick-ups, you also have the option of installing a roof tent. Pick-ups have an open cargo area that can accommodate a tent, and some models also have special fastening systems that make installation easier. There are various pick-up truck models on the market, such as the Ford Ranger, Toyota Hilux and Nissan Navara.
Some car brands also offer dedicated roof tent mounting systems that are designed specifically for certain car models. Before buying a roof tent, check whether the car manufacturer offers such solutions.
Summary. The best types of cars to install a roof tent:
Remember that before installing a roof tent, make sure that the car has adequate roof load capacity and is stable when driving. It is also a good idea to read the roof tent installation instructions and follow the manufacturer's recommendations.
Choosing the right car to mount a roof tent depends on your preferences and travel needs. No matter which model you choose, such a trip is sure to be an unforgettable experience, full of adventure and freedom while traveling. If you don't know exactly how to mount a rooftop tent or have any doubts, please contact us directly: Contact
If you are already decided, you can check out the best roof tent models here: Roof Tents